Horizontal self-priming centrifugal pumps with free shaft for drive by electric motors or internal combustion engines. Capable of pumping heavy sewage and corrosive fluids containing large chunks of solids. Suitable for use in sewage treatment plants, industries, animal farms, paint shops, steel mills, construction sites and generally in any kind of heavy duty application that requires external pumping of sewage / fluids.
General characteristics – Construction materials
Two-channel, semi-open impeller for passage of solids up to 76 mm (3").
Front inspection port of the pump and removable rotating unit for simple and quick repair without disconnection from the piping network.
Self-aligning oil-lubricated double-floating mechanical seal special for resistance to corrosive sewage (fixed and rotating part made of silicon carbide).
External adjustment of the tolerances between the impeller and the wear plate.
Distinct seal oil and bearing oil control indicator.
For the Super T™ Eradicator™ series, in addition to the above, the following also applies:
With a patented solids shredding system.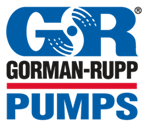 CODE
TYPE PUMP
DELIVERY PORT INLET/ OYTLET (inch)
R.P.M. (rpm)
POWER (HP)
POWER (kW)
PROVISION (m3/h)

MANOMETRIC

(m Υ.Σ.)
89S03A033-0
T3A3S-B
3″
650
1,0
0,75
10,0
2,0
89S03A613-0
T3A61S-B
3″
650
1
0,75
10
2
89S03A653-0
T3A65S-B
3″
650
1
0,75
10
2
89S04A034-0
T4A3S-B
4″
650
1
0,75
15
2
89S04B034-0
T4B3S-B
4″
650
1
0,75
15
2
89S04A614-0
T4A61S-B
4″
650
1
0,75
15
2
89S04A654-0
T4A65S-B
4″
650
1
0,75
15
2
89S06A036-0
T6A3S-B
6″
650
3
2,2
20
2
89S06A616-0
T6A61S-B
6″
650
3
2,2
20
2
89S06A656-0
T6A65S-B
6″
650
3
2,2
20
2
89S08A038-0
T8A3S-B
8″
650
7,5
5,5
35
4
89S08A618-0
T8A61S-B
8″
650
7,5
5,5
35
4
89S08A658-0
T8A65S-B
8″
650
7,5
5,5
35
4
89S10A038-0
T10A3S-B
10″
650
10
7,5
60
3
89S10A618-0
T10A61S-B
10″
650
10
7,5
60
3
89S10A658-0
T10A65S-B
10″
650
10
7,5
60
3