Horizontal self-priming open impeller pumps with high energy efficiency motors. Suitable for clean and dirty fluids.
General characteristics
Maximum operating pressure 6 bar
Maximum water temperature +70OC.
Maximum suction depth 8 m, includes non-return valve.
Asynchronous bipolar motor, insulation class F, protection IP44.
Single-phase pumps have a built-in start capacitor.
Construction materials
Pump body and impeller made of G 20 cast iron
AISI 416 stainless steel shaft
Mechanical seal silicon carbide / ceramic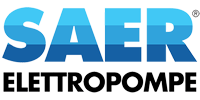 | | | | | |
| --- | --- | --- | --- | --- |
| CODE | TYPE PUMP | PUMP VOLTAGE (Volt) | MOTOR POWER (kW) | NOISE |
| S10701253-0 | AP/97-B | 1 x 220 | 0,75 | 2″ x 2" |
| S10701254-0 | AP/97-BT | 3 x 380 | 0,75 | 2″ x 2" |
| S10701302-0 | AP/97-A | 1 x 220 | 1,1 | 2″ x 2" |
| S10701307-0 | AP/97-AT | 3 x 380 | 1,1 | 2″ x 2" |
| S14902300-0 | AP/98-A | 1 x 220 | 2,2 | 2″ x 2" |
| S14902301-0 | AP/98-AT | 3 x 380 | 2,2 | 2″ x 2" |
PROVISION in m3/h
0
6
9
12
15
18
21
24
27
30
33
36
40
CODE NUMBER

MANOMETRIC in M.Y.S.

(m)

S10701253-0
12,0
11,0
10,2
9,6
9,0
8,0
7,0
5,8
4,6
–
–
–
–
S10701254-0
12,0
11,0
10,2
9,6
9,0
8,0
7,0
5,8
4,6
–
–
–
–
S10701302-0
16,5
15,0
14,3
13,3
12,0
10,5
8,9
7,2
5,1
3,0
–
–
–
S10701307-0
16,5
15,0
14,3
13,3
12,0
10,5
8,9
7,2
5,1
3,0
–
–
–
S14902300-0
18,7
17,3
16,6
16,0
15,7
14,5
13,6
12,7
11,8
10,5
9,5
8,3
6,6
S14902301-0
18,7
17,3
16,6
16,0
15,7
14,5
13,6
12,7
11,8
10,5
9,5
8,3
6,6

Manufacturer:

SAER